As part of our continual efforts to raise standards and to achieve the best outcomes for children at Robert Le Kyng, we have been involved with an exciting new project.
Since September 2017 we have been working with a number of other local schools on a range of projects designed to enhance the learning opportunities for our children.
Called the Educational Strategy Partnership – ESP for short – the following schools and settings have agreed to work together in an informal but meaningful way, sharing best practice, resources and expertise to help raise standards; the schools currently part of the ESP are: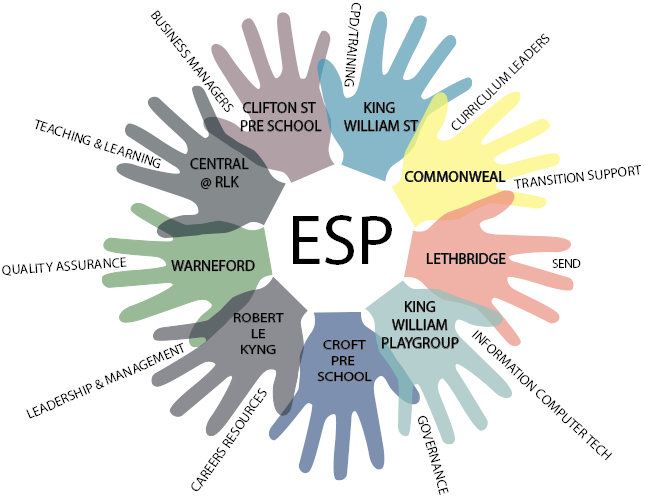 As you can see, this group consists of schools and settings that cater from the very youngest, all the way up to sixth form. This gives us a good view of the journey a child takes through their education and helps us to deliver continuity as children move through the system. There are two "hubs", one in Highworth and the other in the town centre, meaning that we can share good practice across schools with a similar catchment and age group, as well as looking slightly further afield for expertise.
Since September there has been a great deal of review, planning and implementation undertaken through calendared meetings for key stakeholders, including:
Headteachers
Chairs of Governors
Business Managers
SENCOs
ICT Managers
Curriculum leaders
In addition the ESP has :
Provided support for new Headteachers, new Chairs of Governors and new governors
Supported Schools preparing for Ofsted inspections
Worked with Senior Leadership teams to review priorities and strategies
Delivered an Emerging Leaders course to 25 Staff across all schools in the group
Facilitated a programme of peer lesson observations ( Triads) across Primary Schools
Established a Key Stage 2/3 Transition working group to focus on academic and social continuity
Assisted the review of effective practice in our two Playgroups
Explored the possibility of expanding our collaboration with other like – minded and appropriate providers
Provided support for administrative aspects of schools' work
The ESP operates in a climate of mutual trust and a willingness to explore a range of activities designed to support the work of all stakeholders. As a group we are better placed to access additional funding to support these activities. There have been no changes in the way that individual governing bodies are structured; no restriction on the schools' essential freedoms and no centralised pooling of finances.
All schools within the ESP are committed to working collaboratively whilst retaining their unique identities. Such is the success of the collaboration that all schools have agreed to continue working together in the same manner through the next academic year.
In the coming months our priorities are to:
Agree and implement an effective KS2/3 Transition strategy
Explore additional funding streams, particularly in relation to the Swindon Challenge bid
Extend the Triad lesson observation programme across the whole ESP group
Identify and deliver effective CPD opportunities – including the delivery of a second Emerging Leaders course
Ensure that all schools within the ESP remain or become at least Good in the eyes of Ofsted
Grow the ESP if and when appropriate
We will of course continue to update you via normal school communications on the work of the group.